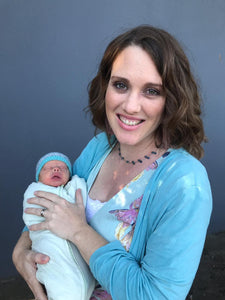 Meet the "It's Time" team - Introducing Claire
Her "It's Time" role: graphic designer for the calendar
Her story goes like this...
Psalm 28: 7 - 8 Adonai is my strength and my shield; my heart trusts in him, and he helps me. My heart leaps for joy, and with my song I praise him.

Adonai is the strength of his people, a fortress of salvation for his anointed one.
I met Claire through a mutual friend. When I met her she was carrying a beautiful little red haired baby in a sling (that she makes as part of her Sovereign brand!)and I could see her heart was so full of love for this little man, named Ezrah. Little did I know at the time that she was the mom of 6 more - just as beautiful children and that her and I would be connected through this project and our Abba Father many moons into the future.
My first impression of Claire was a woman with a heart overflowing with love. You would think that eventually a person would have their limits but when you see her with her family you know that Father has opened wide the door of her heart and she loves each child with individual intention and resolution -  it is such a blessing to observe.
It was sometime after we met that we were chatting at a birthday party about our backgrounds and she was busy telling another lady about her love for graphic design - she was saying that she knew when she left school this is what she wanted to do. Yes, it was then that my ears were peaked and my heart did a skip. I had just  been asking Father who the right person was to do the graphic design on the calendar. I needed someone who was on the same page as Liz and I and someone who was totally sold out to Father. I marvel at our El Elyon's attention to detail in our lives - this was just one of many of His appointed connections during this journey.
Claire and I met up shortly after that day and discussed the calendar. She was in without question and so we began our journey.
Claire also received the happy news last year that she was expecting a baby boy and so her and I discussed how we were going to manage a new born baby and calendar that could very likely be happening around the same time. We had plenty of time, well, so we thought. Josiah was due in January and we were aiming to have the calendar done before the end of December. I think Father may have had a smile on His face as we made our plans because His plan turned out just a little different from ours.
Claire and baby were well but there were complications with her pregnancy that the doctors were not happy about and so she was booked into hospital from 29 weeks to make sure that if anything went wrong, her and baby would be safe at delivery.
Through all of this Claire continued to assure me that she would be able to work on the calendar and that if need be when Josiah was born she would just wrap him up against her and get the design work done! I could not believe my ears - talk about taking things in her stride! At one stage we even snuck a laptop past the nurses so that she could get some work done while waiting patiently in hospital for Josiah's arrival.
Three weeks after being admitted, on the 23rd of November 2018 little Josiah was born via Cesarean section, weighing just 2.1 kilograms at 32 weeks. Claire had to endure quite a complex surgery with major blood loss but our YHVH Rapha was right there with her and Josiah through all of this. The little guy was in neo-natal for  12 days on machines to assist his little lungs and monitor his growth and he lost a further 600grams. He was a tiny little bundle with golden hair, absolute perfection from Abba Father. It was a tough time for Claire and her husband, Alon, but we know in all things we are more than conquerors in Yeshua our Messiah and this family are a testimony to that!
The photo you see here of Claire and Josiah was taken when he was just 2 weeks old and Claire was still recovering from her surgery. When they say dynamite comes in small packages they were thinking of Claire - I am convinced of that!
Due to several unforeseen delays we were only able to start work on the layout of the calendar in January but I can see how Father made sure Claire had some well needed and deserved rest before the work began. Imagine just having a prem baby, breast feeding, a major surgery you are recovering from with seven other children than want your attention and a calendar layout and design to complete with a deadline… well that is what Claire did for us.
On more than one occasion I checked in with her asking if she was sure she would be okay to do this and each time she emphatically replied, "of course I am!"
To say that she has blessed Liz and I with her servant heart and her talent is an understatement, giving of her time, energy and her love for Hashem to this project wholeheartedly. I know she has blessed her Abba Father with her commitment to Him and His kingdom with her response to "It's Time".
She took it with both hands and is a perfect picture of how we should grab hold of Father's ancient paths – with both hands and no hesitation.
One day, when Claire finally finishes her book and her testimony is written we will share it with you because Claire and Alon's story is one that must be told – a journey of faith, perseverance, clinging to Abba and victory in every day with Him.
Thank you Claire for your gift of time to us. Thank you Alon for supporting Claire through this process and thank you to your children for sharing their mom with us to make this a reality.
May Adonai bless you and keep you. May Adonai make His face shine upon you and show you His favour. May Adonai lift up His face towards you and give you shalom. Numbers 6:24 - 26
 Photographs by Claudia DeNobrega
---
1 comment