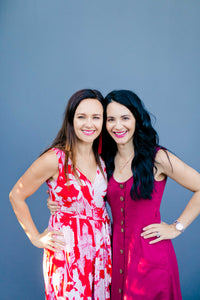 Meet the It's Time Team - Introducing Claudia and Eldine
Claudia
Her role: Photography
The creating of the It's Time Calendar has been one of the most surreal and exciting journeys' I have found myself on to date. What has amazed me the most is how this calendar has created so many new connections – connections that I know I will cherish for the rest of my life!
I knew when I started this journey that there was a very specific photographer I wanted on my team. I had been following her on Instagram for a while and was so drawn to her incredible approach to life. Claudia DeNobrega is no ordinary woman! She is a woman filled with the love and presence of the most high God. His love literally shines out of her.
This is what completely engaged me when seeing  her Instagram page and so when we began nearing the place where the art would need to be photographed as well as us, I contacted Claudia to see if she would be interested.
It has amazed me how Father God has led me to exactly the right people on this journey because everyone I felt led to engage has opened their hands to this project – they saw the vision Father had deposited in my heart and they opened their hands to their part in this journey.
There was absolutely no hesitation in Claudia's response to this project. When the time came she was there with all her equipment, her dazzling smile and graceful poise behind the camera. She is not a woman to be under estimated – she shared a very small piece of her journey with us on the day of our shoot and I realised that this petite and gracious woman was made of deep courage and resilience beyond what the eye can see. She really listens to you when you talk to her and she cares with such depth about people. It is what you see when you look at the photographs she produces.
Claudia is most certainly a story teller – uncovering the best of her subjects with her relaxed and happy nature. She made us laugh and smile and forget our flaws – we had a day of absolute joy!
I know Abba has a precious plan for her life – her beautiful story has just begun to unfold and her part in capturing the It's Time team and our beautiful works of art we are blessed to day, are also part of the intricate threads in her tapestry.
Eldine, from Crown My Style, was chatting to Claudia just before our shoot was about to happen and she felt led to come with Claudia as a gift to all of us, to help with the styling and to ensure that we would feel like fragrant roses instead of drab little wall flowers.
Liz and I were excited and incredibly relieved by this unexpected blessing. We had no idea how blessed we would actually feel on the day with her eye for colour and style! She arrived at the shoot armed with her makeup, curling iron and a burst of colours that set our hearts soaring!
This was a day straight from the heart of the King. I stood in this place of absolute wonder as she tirelessly served each of us the entire day – sowing words of encouragement and guidance and sharing her vulnerabilities with us in order to build into each of us a sense of new perspective over who we are in Him.
Her testimony of overcoming incredible obstacles at a very young age and her journey of restoration brought tears of hope and inspiration to the entire team - this gentle women with the courage of David in her eyes. The story of Eldine's restoration has shaped her into a women who can truly speak into the hearts of other women who struggle with their self-worth – none of it out of place or forced, just these sincere, gracious words that flow into a place of healing – just as soft as the make up brushes she uses to blend that extra bit of rose onto the apples of our cheeks.
The name of her business says it all – because Father God most certainly has crowned her with His love and has given her such insight into making women feel as they should under His covering – beautiful and whole.
 This incredible duo made our year! For each of – Liz, myself, Paityn and Claire – they did something unique and personal.
They stand apart in the Kingdom as women strong in their convictions to serve through the talents and gifting Father has blessed them with.
We are beyond blessed to call these two women part of our team and our journey and I trust that they will be with us for the long haul.
 Thank you, Claudia and Eldine. You are both women equal to Proverbs 31.
"When she speaks, her words are wise, and she gives instructions with kindness."
---