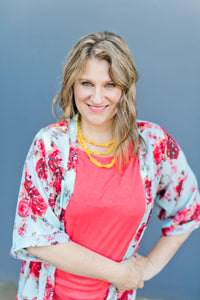 Meet the It's Time Team - Michelle
Meet Michelle
Her It's Time Role: Conceptualisation, design, authoring, project management
Her story goes like this...
It all begins with a vision... an image or a picture.
For me it was a seed - a small little seed that held the word "time".
When I came to know the Hebrew roots of the Scripture I was blown away! After years of being a Christian I had no idea how beautiful the ancient Scriptures were and sadly I often read the Word with absolutely no revelation and insight. That all changed when I listened to a teaching by Dr. Frank Seekins on Honour and the 10 Realities.
What a journey I found myself on and a pathway that has filled me with the greatest peace and joy. Discovering the peace and deepest rest from keeping the Sabbath and the Appointed Time and Seasons has changed every fibre of my being and led me to understand how beautiful, kind and awesome our Heavenly Father is! We are so blessed to be on this path of revelation and I so want to share it with the world!
This was how the calendar was birthed in my spirit. I saw an exciting journey to find His timing for my life and the life He calls us all to live. I knew it would be impossible to be in Father's perfect will if I wasn't in step with Him.
When you pick up what Father lays at your feet you can always expect a bit of resistance! And that is what happened over the last year. By no means did this process just flow as one would expect it to - there were some serious heartaches along the way but through it all Abba Father showed Himself faithful. I have learned plenty of life lessons and have grown in many ways and I know it is just the beginning of a new season of growth for me.
The great thing about a journey is that after the valleys come the mountain tops. Working with this incredible group of people has most certainly been a mountain top experience for me. The love, selflessness, commitment and humility of the team has been a sweet balm and a blessing to me - my cup has overflowed with love and support. When people believe in who you are and come alongside you it is one of the most precious gifts you can be given and I have been so blessed to have my family, the "It's Time" team and my close friends encourage and urge me on.
Elizabeth has been such a rock too - she heard my heart and her spirit leapt at the opportunity to partner with me on this. We sat on her couch with tears in our eyes and joy in our hearts the day I shared the calendar project with her. There was absolutely no hesitation and so the journey began - with my partner in paint.
It has been so surreal getting to this place. The launch of a dream and the hope of many getting into step with their Creator, keeping His timing and not the worlds, hearing His heart alone for their times and seasons. This is how we will know and how we will prepare ourselves for the coming of the Bridegroom, knowing His timing sets us in rhythm with the Heavens and His return.
Stepping in rhythm with Him draws us back into the Garden where intimacy can be restored. Imagine yourself as a child, standing on your father's feet and surrendering to his timing and understanding of the dance... imagine your joy as he whirls you around the dance floor in perfect synchronicity.
This is the joy and the shalom that awaits us when we choose His pathways, His timing and His ways.
Join us as we sit at Yeshua's feet, touching the hem of His garment, walking in His ways and finding peace for our souls.
---
6 comments